Short Story
Two young African-Americans, 3.5 miles of open water, 1 goal… to unite African-American and Senegalese people using the very waters that previously divided them.
The historic "Gorée Project" will follow the journey of two African-American swimmers as they prepare to travel to Senegal, West Africa, for a 3.5 mile open-water competitive swim and cultural meeting. Our cultural-ambassadors will honor our history by retracing the path of enslaved Africans by swimming alongside our Senegalese cousins from the shore of Dakar to the Island of Gorée.
"The Goree" African Unification Project
$55,000.00

Funding Goal

$5,507.00

Funds Raised

0

Days to go

Target Goal

Campaign End Method
Dakar, Senegal, West Africa, United States (US)
1 Campaigns | 0 Loved campaigns
Campaign Story
Two young African-Americans, 3.5 miles of open water, 1 goal... to unite African-American and Senegalese people using the very waters that previously divided them.
Black Kids Swim is a Maryland based 501c3 organization dedicated to increasing Black participation in competitive swimming. This August, we will launch a new web series to unite African Americans and Senegalese through a 3.5 mile open water swimming competition. The web series is part of an initiative called "The Gorée Project" which will follow the journey of two former Howard University Swim Team Captains as they prepare for their first trip to Africa and engage in cultural exchange through sport.
"The Gorée Project" marks the latest programmatic effort of BKS to create and protect excellence in Black children. We recognize that swimming is not a diverse sport and are working to change that by creating a web series that showcases Black swimmers excelling in the sport. We also see this as an opportunity to strengthen ties between African-Americans and Senegalese by fostering mutual understanding. As viewers follow the journey of these two swimmers, they will learn about both American and Senegalese culture, and begin to break down the stereotypes that have kept us apart. The swimmers, Noah Nicholas and Skylar Smith, will prepare physically, mentally and culturally for their adventure; working with BKS' team of Olympians, historians, and Senegalese thought leaders.
Black Kids Swim's Gorée Project consists of a series of 8 webisodes that follow our ambassadors' swim training, cultural history lessons and meetings with scholars and athletic figures, all to prepare for their first-ever trip to the continent of Africa to participate in the Dakar to Gorée swim. The entire process will be documented, broadcast and ultimately edited into a full-length documentary that will tear down the long-held barriers between Africans and African-Americans and build unity in the African Diaspora.
African-Americans and Senegalese share a similar story, both are brilliant people with long-held cultural traditions. Separately, we have survived slavery and colonialism but continue to struggle against divisive politics, police violence, economic oppression and outright racism. Together, we can thrive. The Gorée journey will inspire and unite our cultures by acknowledging our shared histories and creating a stronger future together.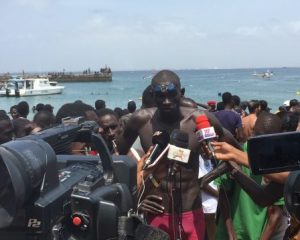 From the 15th to the 19th century Gorée Island was Africa's largest trading centre of enslaved peoples, today it is a UNESCO (United Nations Educational, Scientific and Cultural Organization) recognized World Heritage site and serves as a reminder of human exploitation and as a sanctuary for reconciliation. For each of the last 32 years, hundreds of Senegalese have competed in the annual Dakar-to-Gorée swim and festival, without the companionship of their African-American cousins. This year, BKS intends to bring that separation to an end.
This year, Senegal will host the 33rd annual Dakar- Gorée swim, when hundreds of Senegalese retrace the same path enslaved Africans traveled some 400 years ago. BKS' Gorée Project will mark the first time in history an African-American team competes in this symbolic event.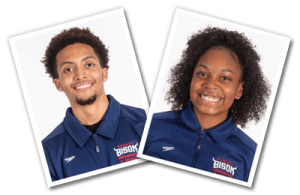 Become part of this historic journey by helping BKS complete the project and documentation of our ambassadors' training process, and produce a web series documenting their journey to and through the festival in Senegal. An historic once-in-a-lifetime opportunity.
The project will establish an African-American leadership presence in Senegal and build a desperately needed new way forward in our people's development.
Support the Project by Sharing with a Friend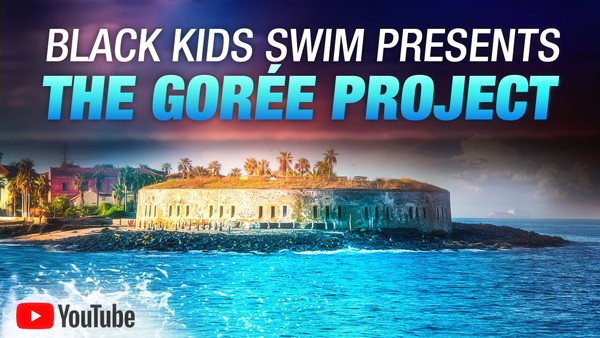 Share The Goree Project with a Friend Right Now!
Rewards
$

25.00
December, 2020
Estimated Delivery
10 backers
$

35.00
December, 2020
Estimated Delivery
2 backers
$

50.00
The Gorée Embroidered Swim Towel
December, 2020
Estimated Delivery
11 backers
$

75.00
The Gorée Water Bottle, T-Shirt & Embroidered Swim Towel
December, 2020
Estimated Delivery
0 backers
$

100.00
The Gorée gear ensemble - Water Bottle, T-Shirt, Embroidered Swim Towel & The Gorée documentary download/flash drive and digital movie poster
May, 2021
Estimated Delivery
12 backers
$

1,000.00
3 backers
7 rewards left
$

5,000.00
0 backers
2 rewards left
Name
Donate Amount
Date
Eliza Kelly

$

100.00
August 28, 2020
Emaline Stevens

$

100.00
August 28, 2020
Angel Philip

$

52.00
August 28, 2020
Draeger Vu

$

50.00
August 28, 2020
Dawn-Marie Bey

$

1,045.00
August 28, 2020
Uniqiquexchange

$

100.00
August 28, 2020
Natalie Jacildo

$

10.00
August 28, 2020
Kara Cannon

$

20.00
August 28, 2020
Lorenza Donna

$

25.00
August 28, 2020
Olga Mckissic

$

25.00
August 28, 2020
Zhengyo Zhou

$

100.00
August 28, 2020
George Raquel

$

20.00
August 28, 2020
Mark Smith

$

50.00
August 22, 2020
Alexander Golberg

$

10.00
August 21, 2020
Jody Stiger

$

50.00
August 20, 2020
Eileen O'Rourke

$

20.00
August 19, 2020
LaKeisha Swan

$

25.00
August 08, 2020
Ursula Angell

$

50.00
August 06, 2020
Rosalind Jarrett

$

20.00
August 06, 2020
Gina Browne

$

50.00
August 06, 2020
Daryn Eller

$

50.00
August 06, 2020
Stuart McDougal

$

100.00
August 06, 2020
Vytas Baskauskas

$

25.00
August 05, 2020
Sarah Ingersoll

$

30.00
August 05, 2020
Megan Smothergill

$

25.00
August 01, 2020
Anonymous

$

50.00
August 01, 2020
Clea Jones

$

100.00
August 01, 2020
Janet Wilson

$

100.00
August 01, 2020
Algonquin Books Bonnie Tsui

$

1,000.00
July 31, 2020
Workman Publishing

$

1,000.00
July 31, 2020
Jennifer Davidson

$

50.00
July 31, 2020
Janet Wilson

$

100.00
July 31, 2020
Aissata Morton

$

50.00
July 31, 2020
Steve Wood

$

250.00
July 31, 2020
Chandra Cozart

$

20.00
July 19, 2020
Lakeisha Renee Moore

$

25.00
July 16, 2020
Joella Calloway

$

40.00
July 15, 2020
Dusty Wood

$

20.00
July 15, 2020
Anonymous

$

35.00
July 15, 2020
Leah Gillespie

$

25.00
July 14, 2020
Donna Ashe

$

100.00
July 14, 2020
Lucinda Gaddis

$

25.00
July 14, 2020
Julie Salamon

$

180.00
July 14, 2020
Maria Hankins

$

100.00
July 14, 2020
Mark Salamon

$

25.00
July 14, 2020
Marianne Countryman

$

50.00
July 14, 2020
Anonymous

$

17.00
July 13, 2020